In this article, you will get to know more about how you add your retailers.
---
You will specifically learn more about:
You start by clicking on 👤 Users in the menu on the left-hand side, followed by clicking on Retailers.
Next, you click on the "+ / plus" button in the upper right corner, to create a Retailer. The window below will appear.
Creating a Retailer
When creating a Retailer, some data is mandatory:
Company name *
Address *
Zip Code *
City *
Country *
VAT no. *
Email *
Currency *
They are marked with a "* / star".
The remaining data is optional – we however recommend that you fill in as much data as possible.
🔔 Please note: the exact same email address cannot be used for two different Retailers.
When setting a Currency you get to choose from the Currencies you have predefined in the Setup Wizard, the first time you logged in.
💡 Please note: you can delete or add more Currencies by going to Settings > Currencies.
Once you have typed in the data your window should look somewhat like this.
You complete and save the Retailer by clicking the "Save" button.
Subsequently the window below appear.
Here you get two options;
No, I'll create this later: clicking this button, means you will not

invite the retailer you just created

Yes, send

invite: clicking this button, means you will create a corresponding Buyer for this particular Retailer and send an invitation that gives access to log in to your Turis B2B webshop


You have now added a Retailer to Turis. Your Retailer's overview now look like below.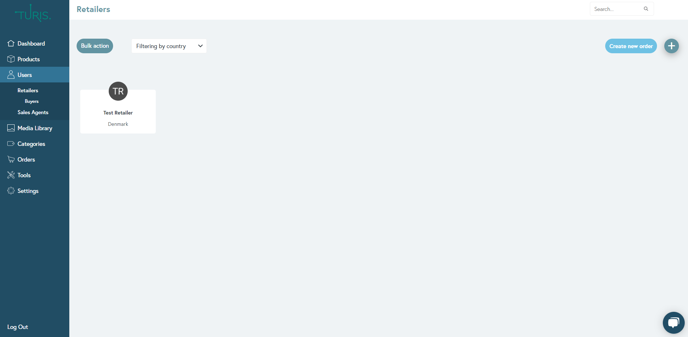 Edit a Retailer
If you click on the Retailer that was just created, you will see the following menu.
Here you can:
Edit Company: edit and update company/retailer information
Orders: see the orders that have been placed throughout the time
Notes: see notes sales agents have written to the retailer throughout the time
Delivery: see and edit the delivery address(es) and invoice address that are submitted and used for this specific retailer
Remember to click "Save" to save the changes you have made.
What is the difference between Retailers and Buyers?
Buyers are the actual persons at a Retailer who orders your products. While the Retailer is the company – physical shop (or webshop), the Buyer is the person from that shop who is purchasing your products.