In this article, you will get to know more about how you manage your orders
---
To access Orders, you start out by clicking on 🛒 Orders in the menu on the left-hand side.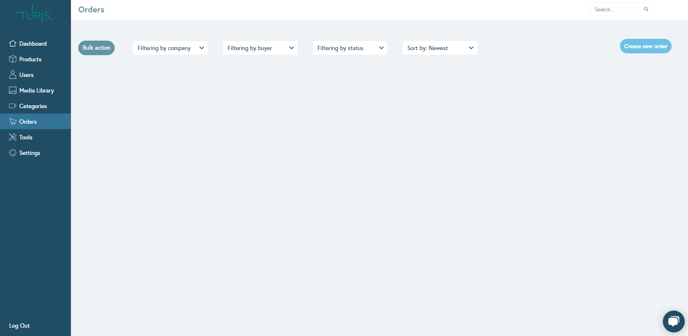 In the top of the Orders section you can filter/sort by company, buyer, status or newest/oldest.

The "Bulk action" button on the left-hand side, allows you to bulk delete orders.
You also have the option of exporting all orders as CSV. You do this by clicking on the "Export as .csv" button, which can be found on the right side of the filter/sort by section.
The light blue button "Create new order" allows you to place orders on behalf of a given customer/retailer.
Clicking on it will open this window.
Then you simply click on "Company" to select a customer/retailer you want to create an order for and the window will look like below.
You select the "Company" then select the "Buyer", followed by hitting the "Start order" button to start creating the order. You will now be redirected to your shop where you can browse and select products for the order.
All orders placed in Turis will be visible here for you to view. When an order has been placed, you will see a red number on top of the shopping cart.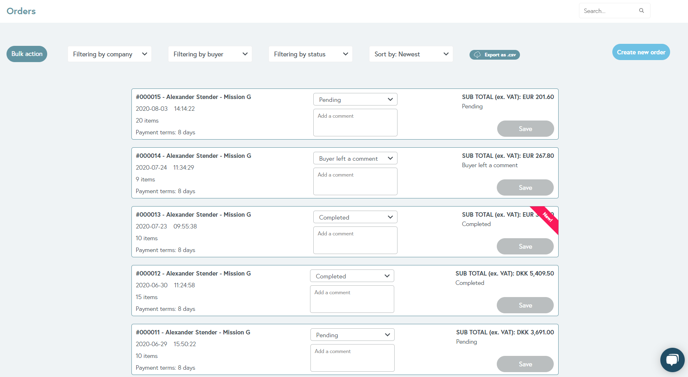 Zooming in on a specific order you can see the following information:
Order ID / Order number
Name of the Buyer
Company
When the order was placed (date & time)
Number of items
Payment terms
Status
Comment(s)
Sub Total
You change or update a order status by clicking on "Pending" and the dropdown will unfold.
Then a bunch of different order statuses will unfold as a dropdown, for you to choose from. Remember to hit "Save" to save the new order status.
🔔 Please note: the default setting for a newly placed order is set to "Pending".
* you can customize the default settings by going to Settings > Order Settings > Statuses.
To view the detailed view of an order, you simply click on it and this window will appear.
Here you can see more information such as the invoice address and where the order is going to be delivered to.
It is also possible to update/change the number of cases, discount or remove from order.
Once again, remember to hit "Save" afterwards to save the changes you have made.
If you work with delivery terms you can change and/or update those by going to "Select Delivery Terms" in the upper right corner of the detailed order view. Clicking on it will give you a dropdown menu to select a given delivery term for this order.