This section gives you a quick overview of the menu in Turis.
---
First things first, when you log in to Turis the first you will see, is the Setup Wizard and it looks like the window below.
Here you get to upload your Logo, set the Currencies, define the Default Order Status along with setting Payment Terms for your new B2B webshop. You complete the Setup Wizard by hitting the "I'm all done" button.
🔔 Please note: these setting can be changed and modified anytime, by going to Settings.
- Logo: Settings > Login Page
- Currencies: Settings > Currencies
- Default Order Status: Settings > Order Settings > Statuses
- Payment Terms: Settings > Companies
After completing the Setup Wizard you will land at the Dashboard. On the left-hand side you find the navigation bar / menu with all the sections in Turis; Dashboard, Products, Users, Media Library, Categories, Orders, Tools and Settings.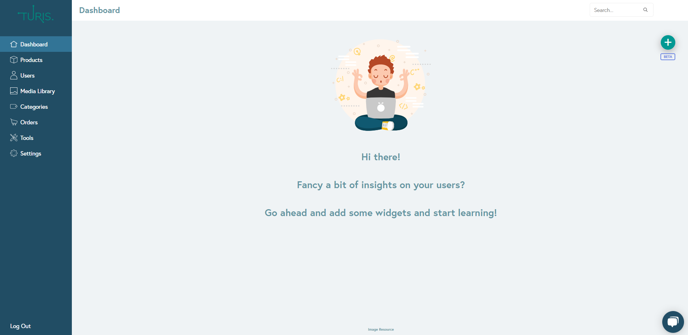 🏠 Dashboard
The purpose of the Dashboard is to give you insights into your customers and sales. All data from the platform is collected, analyzed and visualized automatically for your convenience.
📦 Products
In the Products section, you manage all your products, pricing and relevant product information. If you sell multiple Brands or make use of product Variants this is also where you manage that.
The Users section is where you manage all your Retailers, Buyers, and Sales Agents. You can always add, remove and edit all users on the platform there.
🖼️ Media Library
The Media Library is where all the images for your platform are stored. This will in most cases mainly be product images, but could also, for example, be your logo. You can add images directly to the Media Library, or you can add them when you create Products or upload your logo from Settings and then Login Page.
🏷️ Categories
This is where you manage your Product Categories. Here you can add, delete, and edit categories and sub-categories. The section has drag-and-drop functionality, so that it is easy and intuitive to apply changes in no time.
🛒 Orders
In the Orders section, you can see all the orders your Retailers and Buyers have placed in your B2B webshop. If a Buyer has made a mistake in their order, this is also where you can correct and update it.
🛠️ Tools
In the Tools section, you will find the Bulk Uploader. This effective tool enables you to upload your data for; Products, Retailers, Buyers, Sales Agents, Delivery Addresses and Update Stock Levels. You simply download the excel (CSV) template, fill in the relevant data and upload it. This tool will efficiently import your data and help you safe time.
Within the Tools section you also find the Email Editor. It is a tool that allows you to edit and customize emails sent from Turis, to make the wording fit your brand and identity.
Forms enables you to create and customize a 'Request To Become A Retailer' form. This form simplifies the process of getting new retailers and adding them to Turis once approved.
⚙️ Settings
In the
Settings
section, you will find all the sub-sections, where you can manage and configure the various settings in Turis, to match your business needs.